High performance, full colour, inkjet technology printers.
The Epson ColorWorks Range of desktop label printers are ideal for full colour on-demand inkjet labels. Applications across the ColorWorks range are endless – from logistics to horticulture to food – Epson's DURABrite technology creates unrivalled eye-catching colour labels on-demand.
Individual ink cartridges and long-lasting pigment ink make the Epson Colorworks range of label printers durable, but with a lower running cost than several other inkjet printers on the market.
Epson's on-demand inkjet colour label printers eliminate traditional problems of thermal overprinting. Add flexibility to your in-house printing and reduce your label inventory with Epson's ColorWorks range.
Learn more about the Epson ColorWorks Range below.
Desktop Inkjet Printer
Key Features
Print speeds of up to 4 inches per second.
Low cost per label print.
Handles a wide variety of label media.
Easy operation with an LCD screen for ink and printer status.
In built cutter adds flexibility when it comes to label sizes.
Application Industries
Medical & Pharmaceutical Lab & Vial Labels
Chemical Laboratory and Sample Labels
Food & Drink Labels
Horticultural Labels
This desktop inkjet printer boasts high durability making it ideal for full colour horticultural and food and drink labels among many more.
The easy-to-use LCD screen displays printer information such as ink levels and printer status information. The individual pigment ink cartridges help you create high quality detailed labels that are smudge, water and resistant to UV.
Get in touch with our systems team to learn more about the solution that is right for you.
On-Demand Inkjet Printer
Key Features
Print resolutions up to 1200 DPI
Available as a gloss black ink (bk) or matt black ink (mk) machine
Upgraded LCD screen and keypad
Compatible with phone and tablet printing
Maximum print speed of 100mm/ second
Application Industries
Food & Beverage Labels
Horticultural Labels
Chemical & Cosmetics Labels
Laboratory Labels
The Epson Colorworks C4000e makes printing high quality labels at a cost effective price achievable. This small footprint, high resolution printer uses fast drying ink that is smudge and water resistant which allows you to produce shelf-ready labels with huge savings.
When compared to pre-printed labels that you have to order in large amounts, printing your own label in-house allows you to reduce external costs over the lifetime of your products and makes artwork, ingredient or legislation changes easy and hassle-free.
On-Demand Inkjet Printer
Key Features
Auto-cutter or auto-peeler option as standard.
Print labels from 1 inch to 4" in width.
Print on any shape label.
Maximum print speed of 119mm per second.
Epson ColorWorks Pigmented Inks.
Application Industries
Medical Labels
FMCG Product Labels
Pharmaceutical Labels
Horticultural Labels
Small Pack Chemical Labels
The Epson C6000 Series of printers offer versatile and user-friendly full colour label printing on-demand, in-house. This new range of printers have been designed with (but not limited to) small to medium print batch customers.
The compact design means all operations can be handled from the front of the printer, meaning that even small workspaces can be utilised. High resolution, full colour label printing has never been easier. Individual pigment ink cartridges allow for easy operator replacement and ICC colour profiling allows for beautiful vibrant colours.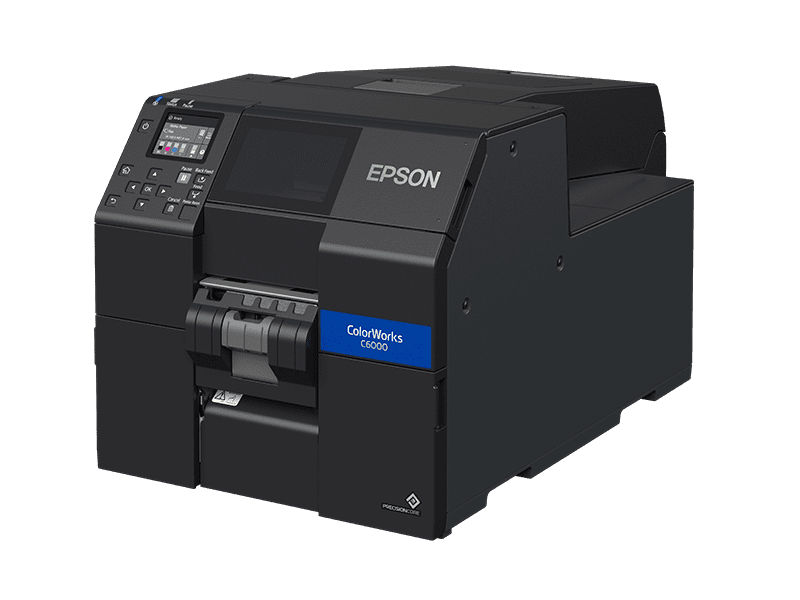 Large Format Inkjet Printer
Key Features
Auto-cutter or auto-peeler options available.
Prints media from 1 inch wide to 8.5 inches wide.
High quality prints up to 1200 DPI.
PrecisionCore™  print head.
Maximum print speeds of 85mm per second.
Application Industries
Large and Wide Format Chemical Labels
Food & Beverage Labels
FMCG Product Labels
The Epson C6500 series has a minimum print width of 1" to a maximum of 8.5" allowing for full versatility when printing labels for different applications.
This small to medium run printer is integration friendly and ideal for almost any inkjet label media including highly durable, die-cut labels and continuous media due to the moveable sensor. Printing highly detailed and beautifully vibrant colour labels has never been so easy.
Industrial Inkjet Printer
Key Features
High print speeds of up to 300 mm per second.
Cost effective machine.
108mm max print width.
Gloss & Matt Versions of the C7500 available.
Available as a roll-to-roll printer.
Application Industries
Food & Drink Labels
Chemical Labels
Horticultural Labels
Construction Labels
The Epson C7500 is ideal for larger volume runs on labels up to 4 inches wide. The permanent PrecisionCore™ Printhead enables low maintenance and can reduce overall downtime. Boasting a print resolution of 600 x 1200 dpi producing full colour labels in long lasting pigmented ink.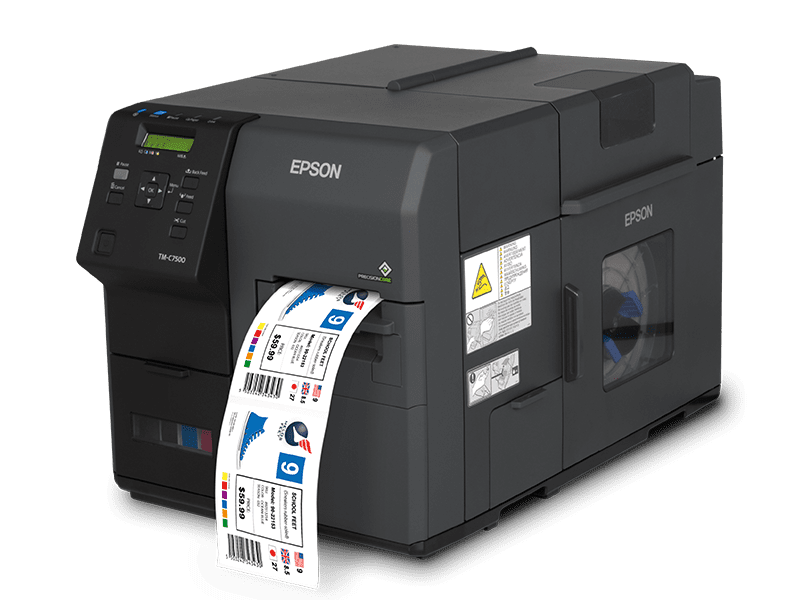 Whatever your application, Dura-ID Solutions has the expertise to guide you towards the best identification solution for your business.
Dura-ID Solutions specialise in providing full printing solutions to help businesses increase traceability. As a label manufacturer, we can offer full solutions that include labels, tags, printers, software and consumables for businesses wanting to take complete control of their product identification.
The George Falmouth Innovation Centre, Enterprise Way, Tankersley, Barnsley, S75 3DZ.  United Kingdom