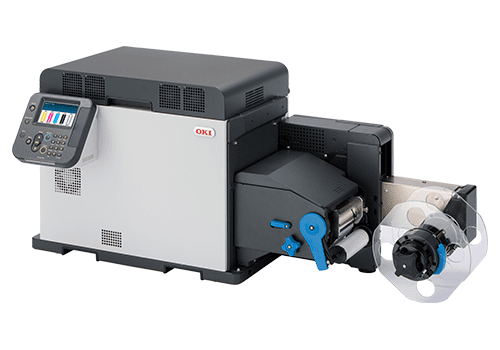 OKI Pro 10 Series
The OKI 1040 & 1050 were created with the need for a narrow format durable label printer in mind. This printer can be used by food manufacturers, beverage fillers and distributors to create branded labels in-house. You can now print on clear media to accomodate bottle labelling and utilise white toner to make your colours really stand out. 
How can the OKI Pro 10 series improve how I label my products?
Utilise white toner (1050 model) underneath colours for a more vibrant label that will help you stand out against your competition.
There's no need to worry about ingredient or allergen changes when you're printing in-house – update your artwork when you need to without costly changes.
Ensure your labels stand the test of time with laser printing technology and Dura-ID's media to create a lasting impression.
Dura-ID offer a wide range of full colour print solutions to allow you to print full colour product branding labels in-house. We assess your requirements and recommend a best fit solution for your business.
Bringing your labels in-house with one of Dura-ID's full colour print solutions will allow you to take control of your costs and design process.
From roll-to-roll formats and sheet-fed machines, we have a solution that will fit your requirements.
Meet tight deadlines, change artwork at the click of a button and print on a variety of media across our range of full colour print solutions.
The OKI range of full colour LED in-house printers allows you to print on a roll or in sheet fed format, meaning that whether you're using applicators or applying by-hand these durable labels will stand the test of time. 
Epson printers can provide you with beautiful detailed colour labels and are ideal for short runs. These inkjet printers offer a variety of media sizes.
The Neuralabel 600e printer is for exclusive use in the chemicals market – allowing print on large format combination labels.
The George Falmouth Innovation Centre, Enterprise Way, Tankersley, Barnsley, S75 3DZ, United Kingdom