Whatever printer technology you are using, EnLabel Software is ideal for creating labels in-house.
Simple design tools allow you to format fixed text, variable data, logos, symbols and barcodes easily.
EnLabel links with your in-house product database and can store layouts for repeated use making labelling on-demand easy.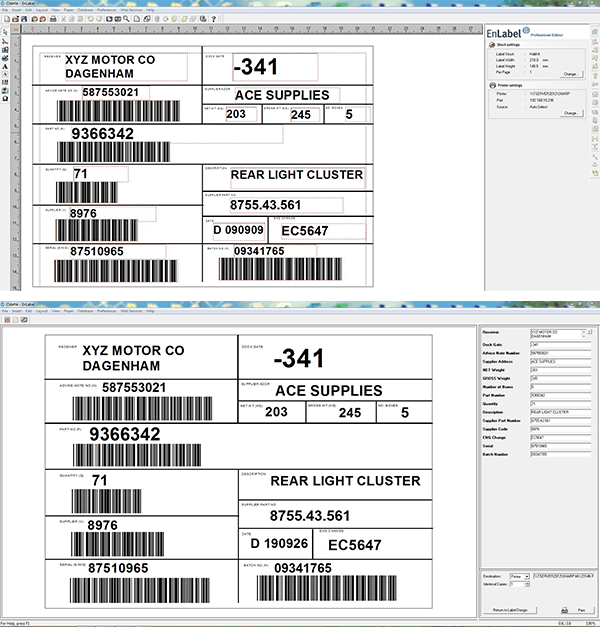 Dura-ID Solutions' EnLabel is a comprehensive label design software. The simple user interface makes it easier than ever to produce labels in-house and new features including macro scripts can be utilised throughout the program.
When creating your labels in EnLabel, thumbnail views of saved templates can be imported for easy repeated printing. The graphical design screen shows your label layout as it will be printed, and you can modify your templates using simple tools. 
The data entry screen allows you to preview your label or tag before it goes to print – meaning that checking all of your variable data fits perfectly on your new template is quick and easy.
EnLabel boasts comprehensive facilities for data handling with the ability to pull information from a variety of databases, including keyboard data entry, option lists, serial numbering and more. It also has professional functionalities that include complex data handling.
Get in touch with our systems team today on 0114 242 2111, email info@dura-id.com or download your free trial by filling in the form below, and we will send you your free trial software to the provided email address.
If you're having trouble with your free trial or just need some assistance then you can download TeamViewer here and give us a call – this allows us to access your computer remotely to fix any issues.
Whatever your application, Dura-ID Solutions has the expertise to guide you towards the best identification solution for your business.
Dura-ID Solutions specialise in providing full printing solutions to help businesses increase traceability. As a label manufacturer, we can offer full solutions that include labels, tags, printers, software and consumables for businesses wanting to take complete control of their product identification.
The George Falmouth Innovation Centre, Enterprise Way, Tankersley, Barnsley, S75 3DZ, United Kingdom