Recycling Labels & Tags for Waste Management
Here at Dura-ID Solutions we take on board the environmental responsibilities which come with the use of plastics, hazardous chemicals and energy used in our production environment.
The vast majority of the recycling labels we supply are produced using recyclable materials. We have strict environmental, waste reduction and ethical working policies in place, to help safeguard against environmental deterioration.
Self-Tie Labels & Hang Tags
We produce a varied range of self-tie labels, developed for easy attachment, even with gloved hands and without the need for additional fixings.  This helps maintain workflow momentum in a fast-paced environment.  
Self-tie labels are commonly attached to wheelie bins, container handles, transportation cages and trolleys.  
Our durable self-tie labels and hang tags withstand outdoor exposure, contact with various fluids, chemicals and rough handling. Our industrial materials are constructed to meet the demands of challenging applications.
We supply self-tie labels and hang tags plain or pre-printed, on one or both sides, in up to full colour.  Colour coding is a simple but effective way to assist the segregation of waste streams, collection cycles or customer type.  We supply labels which are suitable for overprinting with text, numbering and barcodes using a thermal transfer or laser printer; simply speak to us about your needs to receive a competitive quote.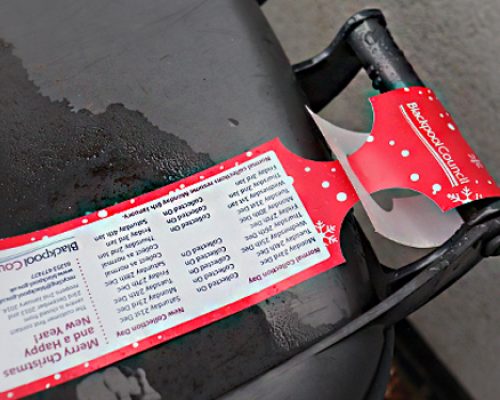 If you have any questions about our services or would like one of our team to give you a call, just fill out this handy form and we'll be right with you.
Dura-ID Solutions excels in the production of self-adhesive labels to adhere to a variety of different surfaces and remain securely in place in demanding conditions.
Our self-adhesive labels for waste management can be used in a variety of applications, including:
– wheelie bins
– skips 
– drums and IBCs.
For hazardous waste solutions you may be interested in more information on our labelling solutions to meet GHS regulations.
HDPE containers are notoriously difficult surfaces for labels to stick to. Our labels involve specialised adhesives to provide good initial grab and a bond which continues to strengthen over time. Other benefits include them being 100% waterproof, resistant to all-weather conditions, chemical detergents and repeated washing.
We use high quality UV resistant inks to ensure your message remains clearly legible over an extended period of time. Pre-printing is available from 1 colour to full colour; we also supply labels which can be overprinted with barcodes and variable data for instances where labels are to denote paid subscription to a service.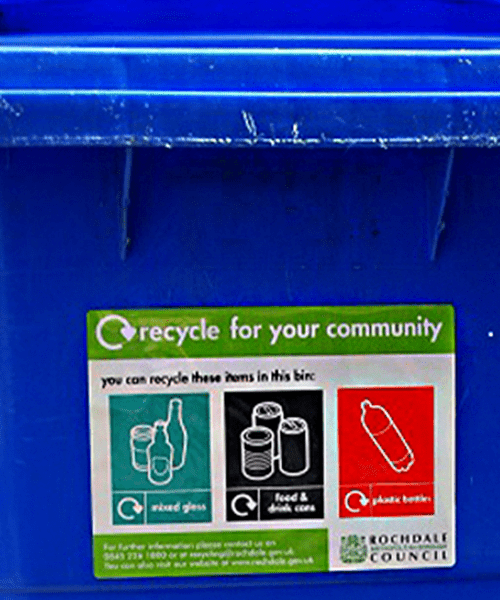 Whatever your application, Dura-ID Solutions has the expertise to guide you towards the best identification solution for your business. 
As an identification solutions provider, Dura-ID Solutions can provide you with a full system to allow you to take all your labelling requirements in-house. Alongside labels we also offer printer, software, consumables and technical support.
Christmas Bin Tags for Nuneaton & Bedworth Council Following consultation on factors such as...
Oaktree House, Aspen Way, Paignton, Devon, TQ4 7QR, United Kingdom