Identifying steel products is only
possiblewith the right labelling
15/09/2022
Whether it's steel production, construction, engineering or manufacturing, project managers are increasingly seeking to know how and by who the product was made, where it has been before it has reached them, and whether it has undergone inspection yet.
Even when this information isn't explicitly requested by a project manager, it is considered best practice to include it – and all of this can be facilitated with colour-coded, readable barcodes that can withstand high temperatures and harsh storage conditions. With the right labelling solution affixed to steel products, any product problems or failures can be quickly identified and the resulting damage can be limited.
However, one added complication with steel product identification is finding the suitable labelling solution for each stage of production. For example, the temperature and conditions steel slabs or rods are exposed to from birth to its final form will vary significantly, but it's a necessary step for monitoring compliance and product quality. Another complication is that products can be marked individually or in a bundle, based on what the product is or a different characteristic like length.
Luckily for companies that operate in these sectors, Dura-ID have robust, durable labelling solutions that can withstand a range of temperatures and can be printed in-house for maximum convenience.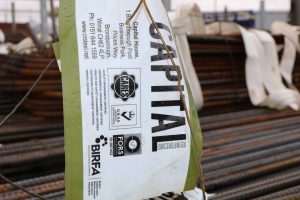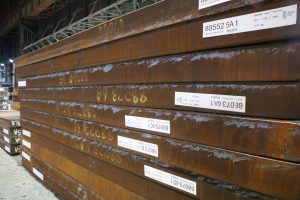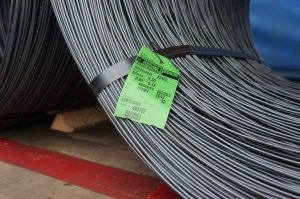 Heat and tear resistant labels and tags
The ability to identify products at the earliest possible stage within the steel manufacturing process can be difficult to achieve but vitally important. We have a range of high temperature tags and labels to meet your needs, and our laser printed stainless steel tags capable of being nailed or welded to hot products up to 1000°C, making the identification of everything from slabs and billets to ingots and flat sheets possible.
But it isn't only high temperatures that labels and tags must be able to cope with. Because of the uneven material surfaces, harsh storage conditions and rough nature of packing and unpacking, it's essential for these solutions to be tear resistant too. Our decades of experience means that the labels we produce combat common challenges such as:
Labels falling off
Attaching to porous or uneven surfaces
Identifying product that could be oily or dirty
Label residue left on finished product surface
Labels that can stand the heat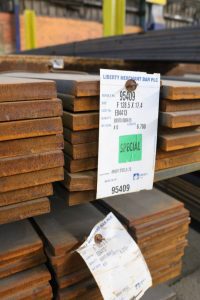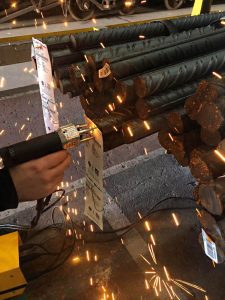 If you're looking for labelling solutions that can stand up to high temperatures and won't crumble under pressure, Dura-ID have got you covered…
Polyplas 80˚c
If you're looking for a solution that is more economical because you don't require heat resistance (up to 80°C), but potentially want to introduce colour coding used in conjunction with a thermal transfer printer, then polyplas is a smart choice. These labels and tags are incredibly robust and especially designed to be tear resistant, making them ideal for construction environments.
Rip-proof: 200˚c
These tags have been designed with super-strength and durability in mind, and they can withstand temperatures up to 220˚c, which is the same as a very hot domestic oven. The tags are made from a flexible material, with a rubberised texture, which allows them to spring-back to form after being creased or crushed – perfect for industrial environments.
High temperature polyester: 250˚c
These high temperature labels can be supplied in a variety of formats including self-adhesive, tags and self-tie, making them suitable for a variety of applications. They can also withstand temperatures up to 250˚c. HTP has a satin-like finish which can be easily wiped clean, making it ideal for use in harsh and dirty environments where data readability can be compromised.
Thermo-tag (600): 600˚c
These specialised high temperature tags guarantee superior barcode identification and traceability. Similar to the rip-proof, the material of the thermo-tag is also crush and abrasion resistant, meaning that your data can be maintained in even the most challenging industrial environments up to 600˚c – that's as hot as a dull red naked flame on a fire, a burning match or a candle.
Pannier: 1000˚c
Our highest temperature-resistant solution is the highly specialised pannier laser marking system with metal tags which are coated specifically for laser marking. These products can withstand temperatures up to a scorching 1000˚c. That's almost as hot as a melting pot of gold and lava!
Are you interested to learn more about how our innovative labelling solutions could assist your business with product identification and traceability from birth to final form? If you are, simply fill out an enquiry form and a member of our team will be in touch to discuss your business requirements in more detail.
The George Falmouth Innovation Centre, Enterprise Way, Tankersley, Barnsley, S75 3DZ.  United Kingdom