Specialist Application Printers
Specialised print solutions for non-common applications.
Here at Dura-ID Solutions, we search the market for the best fit solution to common labelling problems. Our specialist application printers allow for unusual solutions to these issues.
The skill and knowledge of our labelling team lets us find ideal print solutions to suit your various labelling problems. As a global identification solutions provider, we can also assist you in locating the ideal solution to allow you to print your various labels in-house.
Two Colour Thermal Transfer Printer
Key Features
Two versions with print widths of 4″ and 6″.
Print resolution of 300 DPI as standard.
Print speed up to 125mm per second.
Graphic display and buttons allow for easy operation.
Application Industries
The CAB XC series of printers are ideal for printing two colour GHS labels in house without having to hold pre-printed stock. This unit is compliant to GHS regulations for classification and labelling.
The ribbon units are arranged one behind the other to achieve simultaneous printing with two colours on one label. 
The XC4 has a print width of 4″ and the XC6 has a print width of 6″.
A large variety of accessories including cutters and stackers are available.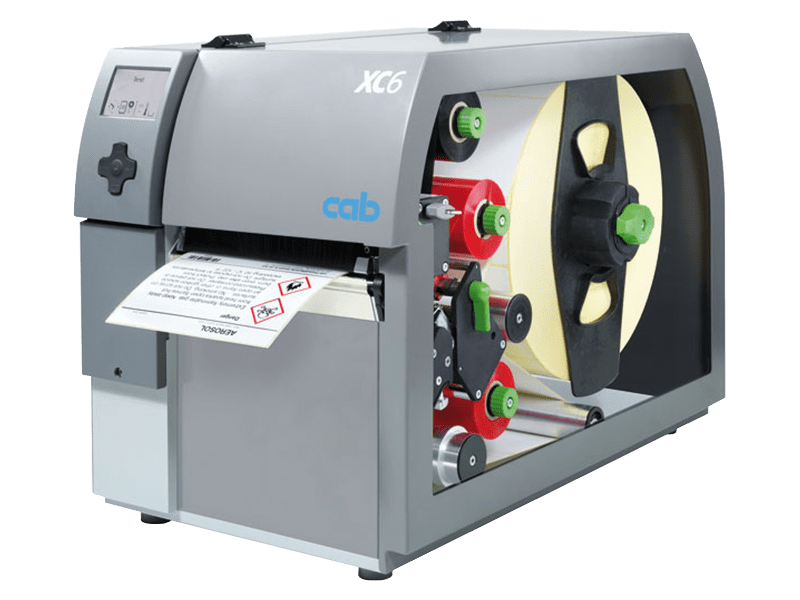 Hortipix Pro Printing System
Horticultural Full Colour Picture Label Printing Solution
Key Features
LED Printing Technology
Edge-To-Edge Full Colour Print Capabilities
Available as a 4 Colour CMYK or a 5 Colour CMYK+1
Media Size up to SRA3
Media Thickness up to 360gsm
High Resolution 1200 x 1200 dpi
Application Industries
Full Colour Picture Horticultural Labels
The Hortipix Pro Printing System is the solution that the industry has been waiting for. The ability to duplex print thick pot label material, with high quality durable print, on-demand and in-house is going to revolutionise the way plant growers and nurseries label their plants.
Advance planning can make it difficult to respond to end user needs, good weather can have a real positive impact on plant sales and the ability to respond to a sales peak is made more difficult when purchasing pre-printed stocks. Hortipix Pro gives you the freedom to respond to current sales peaks or customer needs at the click of a button.
As a solutions provider, Dura-ID can help you find the ideal print solution to your labelling requirements. 
If you can't find a solution that you think will fit your application, we are the company to assist in finding a solution for your needs. With contacts across the labelling and printing industry; we will be able to find you a solution to fit your unique requirements.
Whatever your application, Dura-ID Solutions has the expertise to guide you towards the best identification solution for your business.
Dura-ID specialise in providing full printing solutions to help businesses increase traceability. As a label manufacturer, we can offer full solutions that include labels, tags, printers, software and consumables for businesses wanting to take complete control of their product identification
The George Falmouth Innovation Centre, Enterprise Way, Tankersley, Barnsley, S75 3DZ, United Kingdom