DuPont™ Tyvek® Wristbands
Dura-ID Solutions are the leading European manufacturer of wristbands and the premier DuPont Tyvek® Wristbands™ recommended UK manufacturer. We work exclusively, supplying our trade partners worldwide with high quality and competitively priced Wristbands. 
Tyvek® or paper wristbands are an identification solution suitable for any event or activity.  A preferred choice of wristband for entry control to manage crowds.
For use at:
Exhibitions and Conferences
Attraction Centres, Theme Parks and Water Parks
Festivals and Concerts
Sporting Events
Nightclubs and Bars
Hotels and Campsites
Schools and Universities
and many more…
Our wristbands are hypoallergenic and comfortable to wear. Quick and easy to apply and are designed to fit various wrist sizes. 
We stock 7 variations of Tyvek wristbands in large quantities ready for immediate dispatch. Please contact us for more information.
Dura-ID Solutions range of plain Tyvek® wristbands come in two sizes as standard – 19mm (3/4″) and 25mm (1″) and come in a large range of standard colours.
All our plain Tyvek® wristbands come with sequential numbering.
Tyvek® wristbands have become the identification method of choice of most event organisers. They allow easy identification at busy events from large concerts to corporate events. Ensure security at your event by choosing Tyvek® wristbands as they cannot be removed without showing signs of tampering or being broken due to the strategically placed security cuts.
Please ask us about environmentally friendly litter-free or bio-degradable wristbands.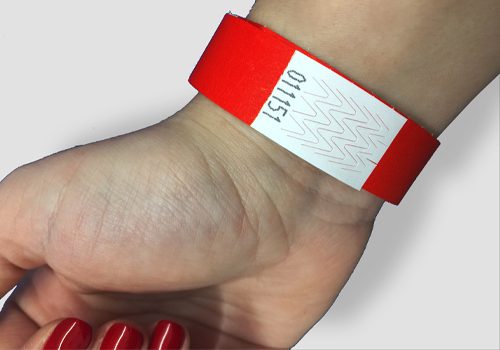 If you have any questions about our services or would like one of our team to give you a call, just fill out this handy form and we'll be right with you.
Striped Tyvek® Wristbands
Dura-ID Solutions range of striped Tyvek wristbands are available from stock in a 25mm (1″) width.
These are printed in 16 off the shelf vibrant colour combinations. 
We can also produce our striped Tyvek® wristbands in a 19mm (3/4″) width, however these are made-to-order and therefore are subject to minimum order quantities.
Litter-Free Tyvek® Wristbands
Dura-ID Solutions can offer litter-free wristbands made from highly durable Tyvek® material.
These wristbands help reduce waste and litter by having non-removable backing paper but are still tamper evident.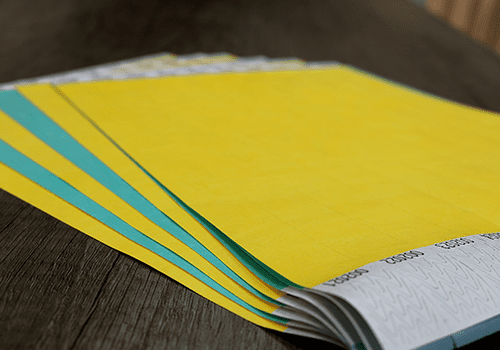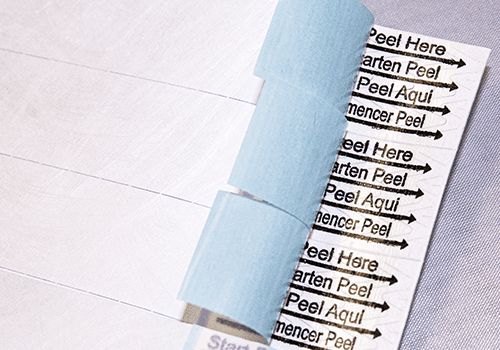 Laser Printable Wristbands
Dura-ID Solutions have a range of laser printable wristbands so you can create bespoke wristbands on-demand and in-house. We have two sizes available in these laser printable bands – 10 per sheet and 8 per sheet.
As an OKI Partner – we can also provide a full print system alongside your laser printable wristbands.
Why Laser Printable Wristbands
Print single or full colour, variable data, or barcodes on demand
Hypo-allergenic, waterproof material
Quick and easy to apply, comfortable to wear
Suitable for use in standard laser printers
Sheets made with leaders allowing edge to edge printing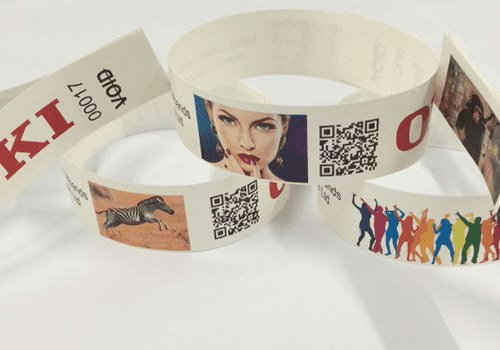 Made-to-Order Tyvek® Wristbands

If you require a special type of wristband with unique features – Dura-ID Solutions can provide you with a custom made option.
Dura-ID Solutions' made-to-order wristbands can be supplied plain or printed to one or both sides. 
Our made-to-order wristbands are subject to minimum order quantities.
Some of our options include:
UV security printing
Unique lengths – longer or shorter
Special consecutive wristbands
Sequential barcoding
Bespoke security cuts
With or without a tear off tab/coupon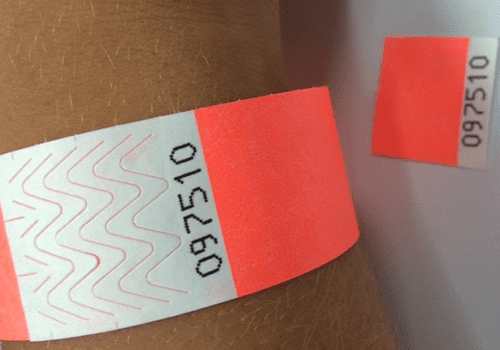 Whatever your application, Dura-ID Solutions has the expertise to guide you towards the best identification solution for your business. 
As an identification solutions provider, Dura-ID Solutions can provide you with a full system to allow you to take all your labelling requirements in-house. Alongside labels we also offer printer, software, consumables and technical support.
Oaktree House, Aspen Way, Paignton, Devon, TQ4 7QR, United Kingdom