High quality inkjet prints in either a peeler or cutter version.
Find out more about the Epson ColorWorks CW6000, including key features, inks and related software. You can also download the Epson ColorWorks CW6000 printer specification by filling out the simple form provided at the bottom of this page.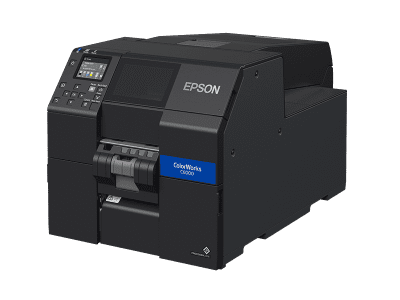 Is the Epson CW6000 right for you?
Available in an auto-peeler or auto-cutter version to suit your application.
Up to 4 inch print width.
Cheaper cost per print than the CW4000 due to the larger ink cartridges.
High resolution of 1200 x 1200 DPI for photo quality prints.
Set-up and installation support included.
8E-601 – Cyan Ink
8E-602 – Magenta Ink
8E-603 – Yellow Ink
8E-604 – Black Ink
8E-605 – Maintenance Box
Epson ColorWorks CW6000 Specification
Fill out the required field from our quick an easy form to download the printer specification for the Epson ColorWorks CW6000.