High speed printing for high volume label users.
Find out more about the Epson Colorworks C7500, including key features, inks and related software. You can also download the Epson Colorworks C7500 printer specification by filling out the simple form provided at the bottom of this page.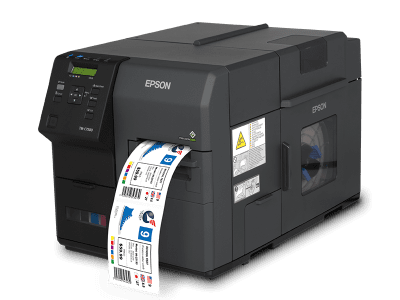 Is the Epson CW7500 right for you?
Extremely fast label printing up to 300mm per second.
Up to 4 inch print width.
Available in a gloss or matt version.
Large capacity inks for a reduced overall cost per print.
Couple with a rewinder for labels going straight on to an applicator.
Set-up and installation support included.
Matt
8E-751 – Cyan Ink
8E-752 – Magenta Ink
8E-753 – Yellow Ink
8E-754 – Black Ink
Gloss
8E-751G – Cyan Ink
8E-752G – Magenta Ink
8E-753G – Yellow Ink
8E-754G – Black Ink
Epson Colorworks C7500 Specification
Fill out the required fields from our quick an easy form to download the printer specification for the Epson C7500.