The Toshiba EX4 & EX6 can fit almost any labelling application.
Find out more about the Toshiba EX4 & EX6, including key features, inks and related software. You can also download the Toshiba EX4 & EX6 printer specification by filling out the simple form provided at the bottom of this page.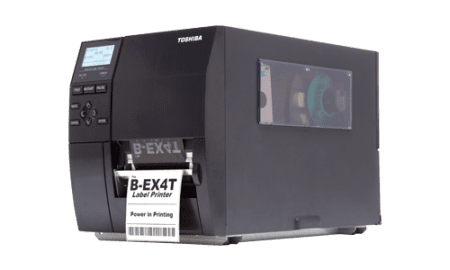 Is the Toshiba EX4 or EX6 right for you?
Available in either a 4 inch print width (EX4) or a 6 inch print width (EX6).
Print crisp barcodes and batch codes with 200 or 300 DPI versions.
Reduce consumables usage with optional ribbon save module at purchase.
Dura-ID stock a wide variety of ribbons including wax, wax resin and full resin. Please speak to a member of the team to discuss the requirements for your material.
Toshiba EX4 & EX6 Specification
Fill out the required field from our quick an easy form to download the printer specification for the Toshiba EX Range.