Compact and Perfect for Case or Shipping Labels
Find out more about the TSC TX Range, including key features, inks and related software. You can also download the TSC TX Range printer specification by filling out the simple form provided at the bottom of this page.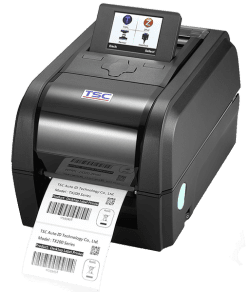 Is the TSC TX Range right for you?
The small footprint makes it ideal for places where space is tight.
Available in a 200 or 300 DPI version.
4 inch print width.
Compatible with both thermal transfer and diret thermal media.
Large ribbon capacity up to 300m over comparable printers.
Prints upt o 8 inches per second.
Set-up and installation support included.
Dura-ID stock a wide variety of ribbons including wax, wax resin and full resin. Please speak to a member of the team to discuss the requirements for your material.
TSC TX Range Specification
Fill out the required field from our quick an easy form to download the printer specification for the TSC TX Range.