Full colour, high specification, LED laser printers.
The OKI range of printers offers users a variety of solutions suitable for durable label and tag printing. This allows for full colour, multiple design label printing, giving you the opportunity to print variable data and branded logo's/images on demand. The need for stocking a range of label formats can be replaced by plain stock, giving you the speed and flexibility to print labelling as needed and within tight deadlines. Dura-ID holds a range of stock available to ship to you on a next day call off. 
The Executive Pro 7 Series and high spec Pro 9 series of Oki printers are available with SMP (smart managed print) that helps users to understand and control print costs, whilst receiving peace of mind on breakdown responses and automatic consumable replenishment.
Learn more about these solutions below.
A4 Sheet Fed Printer
Key Features
Durable Print due to LED Technology
Small machine footprint
Full Colour A6 – A4 and beyond Sheet Format Media
Print speed of up to 35 pages per minute
Application Industries
Horticultural Labels
Chemical Labels
Pharmaceutical Labels
Construction Labels & Tags
Metals & Engineering Labels
The OKI C650 printer is ideal for full colour A4 printing of tags or labels on sheets. It can also be utilised for normal office printing as well as label/tag printing. Media stock of up to 250gsm can be printed through the OKI C650.
Introduce colour labelling in to your business, whether you print your own branding, add full colour images or opt to colour code your products for production purposes – the OKI C650 is an ideal fit for you.
SRA3 Graphic Arts Sheet Fed Printer
Key Features
LED Printing Technology
Edge-To-Edge Full Colour Print Capabilities
Available as a 4 Colour CMYK or a 5 Colour CMYK+1
Media Size up to SRA3
Media Thickness up to 360gsm
High Resolution 1200 x 1200 dpi
Application Industries
The Pro 9 Series graphic arts printer has quality that is unbeatable on sheet-fed media. The commercial print quality of this printer means that you can handle not only your labels and tags through this machine, but literature and branding materials – making it a great office all-rounder.  
The digital LED print technology and Multi-Level ProQ technology produce high definition print with some of the sharpest images and vibrant output on the market.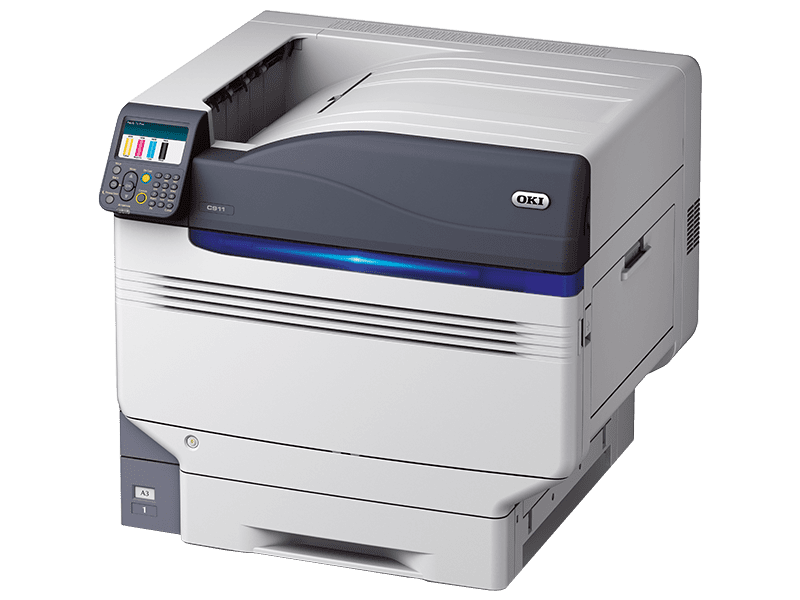 Hortipix Pro Printing System
Horticultural Full Colour Picture Label Printing Solution
Key Features
LED Printing Technology
Edge-To-Edge Full Colour Print Capabilities
Available as a 4 Colour CMYK or a 5 Colour CMYK+1
Media Size up to SRA3
Media Thickness up to 360gsm
High Resolution 1200 x 1200 dpi
Application Industries
Full Colour Picture Horticultural Labels
The Hortipix Pro Printing System is the solution that the industry has been waiting for. The ability to duplex print thick pot label material, with high quality durable print, on-demand and in-house is going to revolutionise the way plant growers and nurseries label their plants.
Advance planning can make it difficult to respond to end user needs, good weather can have a real positive impact on plant sales and the ability to respond to a sales peak is made more difficult when purchasing pre-printed stocks. Hortipix Pro gives you the freedom to respond to current sales peaks or customer needs at the click of a button.
Continuous Media Printer
Key Features
OKI's First Dedicated Label Printer
Highly Durable Print using LED Technology 1200 x 1200 dpi
Narrow Format Printing up to 5"
Continuous Form Media
Application Industries
Chemical Labels
Food & Beverage Labels
Cosmetic Labels
Household Goods
Horticultural Labels
The OKI Pro 10 Series is OKI's first dedicated label printer range. The OKI Pro 1040 offers full CMYK full colour printing on a host of labelling materials. The OKI Pro 1050 uniquely offers a CMYK+1 option that enables the additional white toner, to be used in the print process. The OKI Pro 1050 is ideal for printing high quality labels on clear PP/PE/PET materials.
The OKI Pro 10 Series offers high print resolution to 1200 x 1200 dpi and boasts a variety of configurations. A re-winder can be added at label output to assist with the need to capture labels on a roll for automated applicators.
Produce eye-catching labels and reduce wastage within your business with the OKI Pro 10 Series printers on short run label prints.
Whatever your application, Dura-ID Solutions has the expertise to guide you towards the best identification solution for your business.
Dura-ID Solutions specialise in providing full printing solutions to help businesses increase traceability. As a label manufacturer, we can offer full solutions that include labels, tags, printers, software and consumables for businesses wanting to take complete control of their product identification.
Out with the Old and in with the New for Farmyard Nurseries Richard Bramley, Owner at Farmyard...
The George Falmouth Innovation Centre, Enterprise Way, Tankersley, Barnsley, S75 3DZ, United Kingdom